General
Private Bus Charter
Service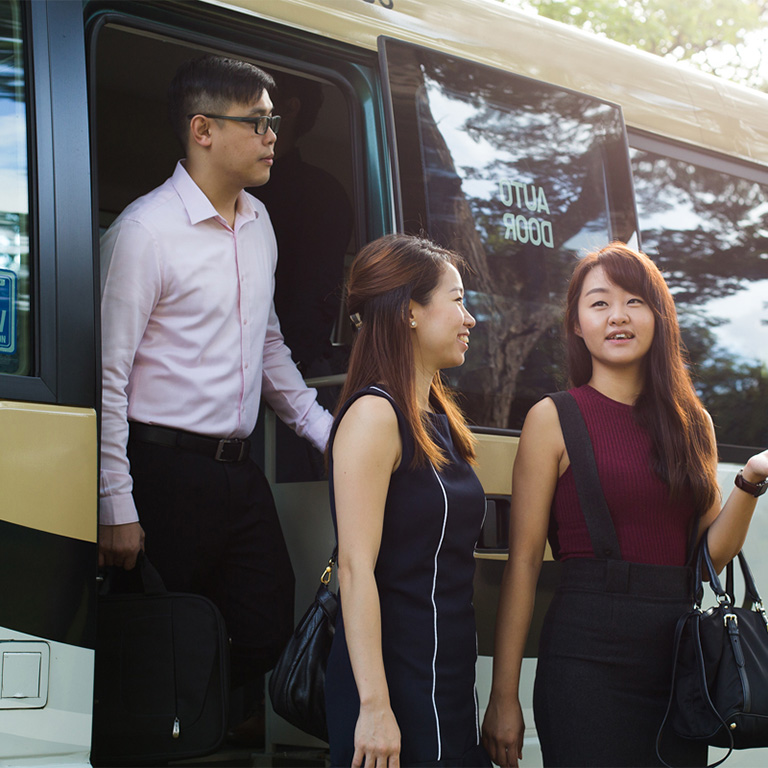 Private Bus Charter
Service
At Strides Bus, we are dedicated in providing you with the best Premium Bus Service available in Singapore. Established in 1994, our premium bus services now come under the umbrella of the Strides Mobility brand as we continue to offer a whole range of vehicles to suit all your bus charter and bus rental needs.

We offer customisation and expert advice to ensure that you get the most of all our services. As pioneer of peak hour scheduled bus services and private chartered bus services, our dedication in the industry to provide exceptional service has won us numerous MNC contracts.
Customer Centric
Minimise financial, administrative, and operational costs with our on-demand, scheduled bus charter services that is developed to work around you and your business. Our diverse fleet includes mini buses and coaches of different seating capabilities.​
Reliability & Safety​ with Technology
Using proven operations and fleet management capability that leverages industry-leading traffic, vehicle and schedule management systems, our team can provide data-led, integrated transport planning services and expert advice on scheduling and customisation of bus routes for our customers.
Whatever your transport needs – we have a whole fleet of buses for your selection.
Our trained and dedicated bus drivers will be ready and waiting to be at your service, whenever and wherever you need them to be.
Ad-hoc Bus
Provide corporations, businesses and individuals with hassle free and efficient transportation of guests to and from corporate events, private functions or everyday outings. They are available for bookings for either hourly (minimum of 4 hours) or per Trip.
Long-term Bus
Provide corporations such as shopping malls, offices or educational institutions in Singapore with longer term convenient transportation solutions for their customers, staff or students. As the minimum bus charter period is 6 months, this service is most suitable for organisations seeking Long-Term bus transport hire.
Scheduled Bus Services
Provide services scheduled during peak hours to bringing you directly from home to your offices in the Central Business District. We also provide shuttle bus services for individual companies and their employees as well as premium bus services during morning and evening peak hours on weekdays for increased connectivity and convenience. Our scheduled bus services run daily and on schedule, rain or shine and our buses run in peak condition always because of our commitment in ensuring that transportation is both convenient and comfortable for all.
Value-Added Services
We believe in giving you value for your money. That is why we provide our Value-Added Services for our clients who do Premium Bus Service bookings with us. These services are there for your convenience and can be rented at additional cost with whichever premium bus service you are booking. We offer Bus Ticketing Services as well as Bus and Directional Signages and Installation of Advertisement Wraps on Chartered Buses.
Ready to try our services?
Contact us to find out more about our special corporate packages or request a Strides bus booking.