General
Premium Luxurious Limousine Service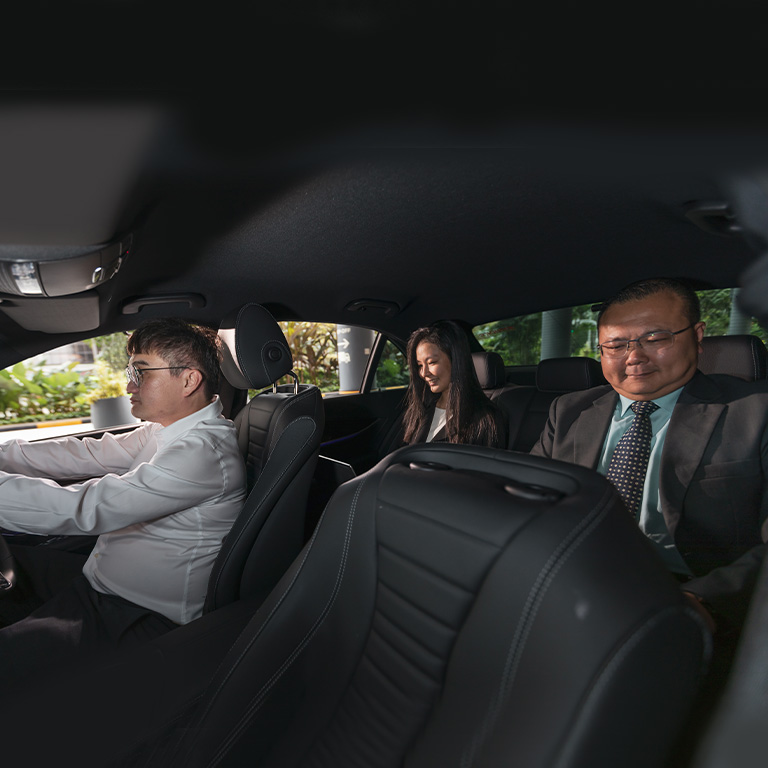 Premium Luxurious Limousine Service
At Strides Limousine, we are dedicated to providing you with the best limousine service in Singapore to suit all your transport needs.

Our team offers customisation and expert advice to ensure your entire trip is safe and seamless. Whatever your corporate travel requirements may be, we will deliver a tailor-made solution for you, and you can even book and track your trips on our Limousine Booking System.
Customer Centric
Our limousine chauffeurs are professionally dressed in full uniform​, specially trained in safety and customer service. Their mission is to provide our clients with the best service and support.
Trusted and Preferred ​
We are proud to be the appointed transport service provider to Government Agencies and Corporations for major events in Singapore. Where punctuality is imperative, safety is paramount, and comfort cannot be compromised, you can count on STRIDES. During the COVID-19 pandemic, we were the exclusive Stay-Home-Notice (SHN) transfers transport provider for the Ministry of Transport (MOT).
Digitally Connected
Our online limousine booking system provides real-time booking and tracking for users and/or agents. Our system is also able to send notifications to passengers via customisable SMS and generate enhanced trip billing features. It's easy, quick and reliable.
Airport Transfer
Our professional chauffeurs will ensure that your visit to Singapore will begin and end in style and comfort. From the moment of your arrival at Singapore's world-renowned Changi Airport, you will be treated as our VIP guest. Your personal chauffeur will be there on time to greet you upon arrival, and you will journey to your destination in luxury and safety in one of our premium airport limousines. We take special care to make certain that all our customers feel relaxed, comfortable and pampered, even in a short airport transfer.
Limousine Counters
If you are visiting any parks at Wildlife Reserves Singapore, hop on to our spacious and luxury limousine after a long day instead of queuing at the taxi stand.
Conference and Business
With our business meeting and conference limousine service, your first point of contact would be our competent and courteous customer service representative who will run through your entire business meeting or conference schedule and other specific requirements with you before we provide you with a detailed plan that includes suggested pick-up times for the various locations, a detailed transportation schedule and contingencies in case of potential disruptions.
In other words, what you will receive is a tailor-made transportation plan that fits your corporate needs. Our highly trained drivers will be thoroughly briefed so that on the day of your business meeting or conference, they will be able to handle any and all ground challenges efficiently and professionally as your personal chauffeurs.
Special Occasions
Looking to hire a limousine for a wedding? How about a whole fleet of limousines for a big event? Whatever your event needs in terms of style or scale, Strides Limousine Service has the limousines and chauffeurs always ready to provide you with a first-class ground transportation service for all your events.

We have a team of dedicated experts in transport solution services who will be able to adapt and scale our services according to your event needs. No matter the event complexity – from a simple point-to-point transfer of guests to a prom or wedding to a special VIP event stretching across various venues and days – your event limousine needs will be catered to by our team who is able to handle all events.
| Services | Rates |
| --- | --- |
| Airport Arrival | $95 |
| Airport Departure | $85 |
| Point to point limousine transfer | $85 |
| Hourly charter (min. 2 hours) | $85/hour |
| Waiting time (per 15 mins block) | $12/block (up to maximum of two blocks) |
| Extended Hourly Disposal (per 15 mins block) | Pro-rated/block |
| Midnight Charge (2300 to 0700 hours) | $12 |
| Additional Stop | $12 |
Ready to try our services?
Book now to request for a limousine booking or contact us to find out more about our special corporate packages