A Training Committee for Drivers (TCD) has recently been set up to help identify and develop training programmes to equip Strides Mobility's taxi driver-partners with relevant knowledge and upgraded skillsets to thrive in a fast-changing economy. The TCD aims to (i) identify relevant training and skills required for our driver-partners in the future landscape; (ii) develop systematic and sustainable training programmes; and (iii) foster a culture of lifelong learning.
A Memorandum of Understanding (MOU) to establish the TCD was signed today (28 July) by Mr Ang Wei Neng, President of Strides Mobility Services (Strides), and Ms Yeo Wan Ling, Advisor to NTUC's affiliated association, the National Taxi Association (NTA). Also present at the signing were representatives from NTUC's e2i (Employment and Employability Institute) and NTUC LearningHub as they are supporting the training programmes by providing specialised expertise and resources.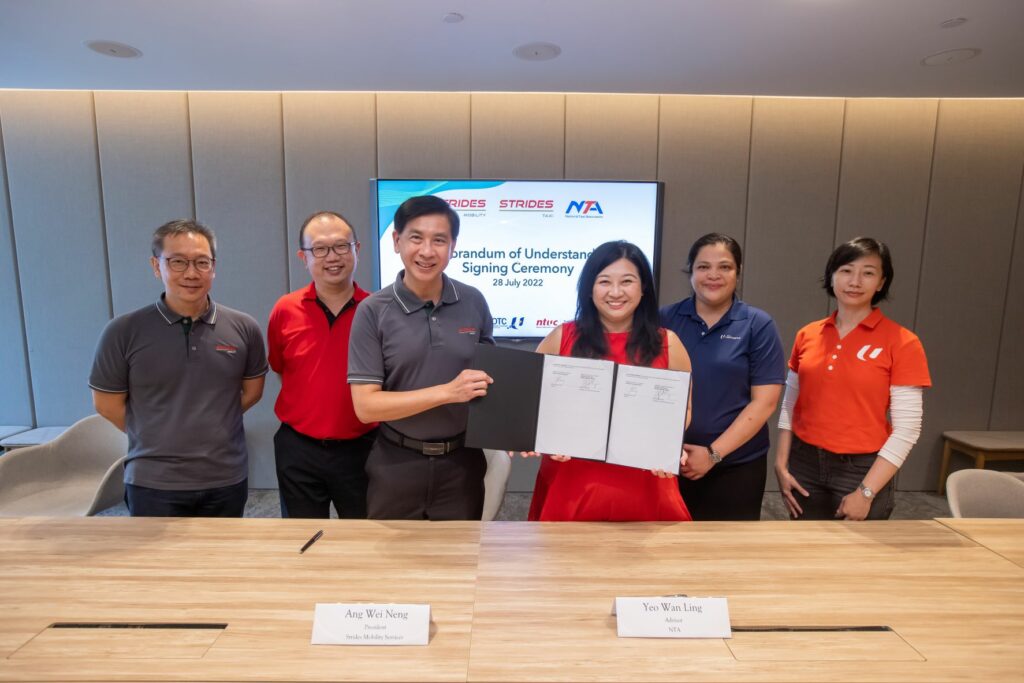 Equipping Taxi Drivers for Now and Beyond
One of the newly launched training programmes that the TCD seeks to explore and develop more of is the "Customer Service and Road Safety & Defensive Driving" programme. As a core programme for all new Strides driver-partners, it will equip them with customer service skills and enhanced driving capabilities to provide safe and comfortable journeys for customers. We expect hundreds of partners to attend in the coming months. All new driver-partners who complete the eight-hour programme can expect to receive a training grant of $36 to help them defray the cost of their expenses as they seek to upgrade their skills. NTA members will receive an additional $100. The TCD will involve senior management representatives from Strides and representatives from NTA, as well as partners – NTUC's e2i, NTUC LearningHub and NTUC Industry Training & Transformation (IT&T), which will regularly review the current training roadmap and explore future training programmes for drivers.
Mr Ang said, "This MOU is a significant milestone for Strides to provide meaningful and purposeful training for our driver-partners. The funding provided goes a long way to encourage the partners to take time off to learn new skills, including digital skills, to do their job better, provide better customer service and encourage life-long learning. We look forward to continuing our close working relationship with NTA, NTUC's e2i, NTUC LearningHub and NTUC IT&T."
Ms Yeo shared, "NTA is glad to partner Strides in setting up a joint committee on training for driver-partners. Leveraging the Labour Movement's network of NTUC's e2i, NTUC LearningHub and NTUC IT&T, NTA wants to ensure that we put in place a targeted training roadmap that equips our taxi drivers with the necessary skillsets to remain relevant in an evolving industry. This is a step in the right direction and we hope to build on this by partnering more operators to continuously upskill our Point-to-Point workforce."
Mr Fong Chee Ping, Strides driver-partner, added, "Such programmes on good customer service and safe driving are very helpful in enhancing our skills and knowledge to provide safe and comfortable service to our passengers. It will also remind us about our priorities when ferrying passengers. It is great that drivers can receive some support for attending the training. I will definitely encourage my fellow driver-partners to attend this programme."