General
One Stop Automotive Solutions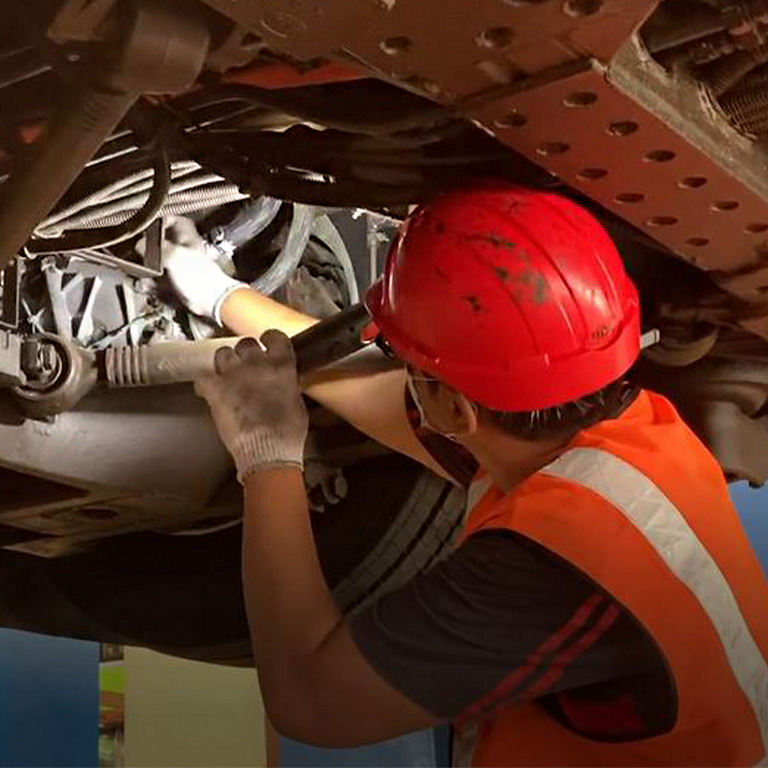 One Stop Automotive Solutions
Strides Automotive Services provides one-stop automotive solutions which includes repair and maintenance of mechanical and electrical parts, air-con services, tyres, batteries replacement, vehicle grooming, spray painting, accident repair and motor claims, body refurbishment, retrofit and sales of equipment installation for our customers.

We also provide specialised vehicle solutions through design and retrofit special purpose vehicles for a variety of commercial, medical, and other applications.

Strides Automotive Services is also well known for its respective exclusives as agents for DENSO Bus Airconditioning system, ROTAREX Auto Fire Suppression System and DOGA bus wiper system. We are also the exclusive after-sales provider for BYD electric buses and MASATS door system. Strides Automotive Services also imports new electric commercial vehicles.
Vehicle Repair and Maintenance
Our repair centre is managed by a qualified, dedicated and experienced service team. The centre's state-of-the-art equipment allows us to handle repair and maintenance, 24/7 roadside assistance, accident and motor claims services for private and corporate customers.

We have packages to suit all budgets and requirements:
Internal Combustion engine, hybrid, and full electric vehicle
2-wheeler, cars, vans, buses, trucks and other specialised vehicles
We are currently the maintenance service provider for more than 2,000 government and corporate vehicles.
Specialised Vehicle Solutions
Our services include sales, design and retrofit of existing vehicle to be special purpose vehicle for a variety of commercial, medical and other applications such as:
Buses
Municipal Vehicles
Security Vehicles
Emergency Vehicles
Special Covid Transporters
We have retrofitted buses that are equipped with sealed dividers and negative pressure systems, and are currently serving the nation as Covid-Safe transporters.
Electric Vehicle and Automotive System Agency
We are currently the sales and after-sales service agent for the following products:
DENSO bus air-conditioning system
ROTAREX Auto Fire Suppression System
DOGA bus wiper system
BYD electric vehicles
MASATS bus door system
Technical Training
We are the 1st Institute of Motor Industry (IMI) approved centre in Singapore to provide and certified hybrid and electric vehicle maintenance level 1-3. Equipped with customised training jigs, our classroom and workshop facilities provide a safe and conducive learning environment for our trainee.
Institute of Motor Industry (IMI)
As the professional body of individuals working in the motor industry, IMI is the authoritative source of retail motor industry information, standards and qualifications.
IMI Qualifications and Accreditations set the highest standards for the motor industry, driving skills-acquisition and establishing clearer career paths for individuals working in it.
IMI International Qualifications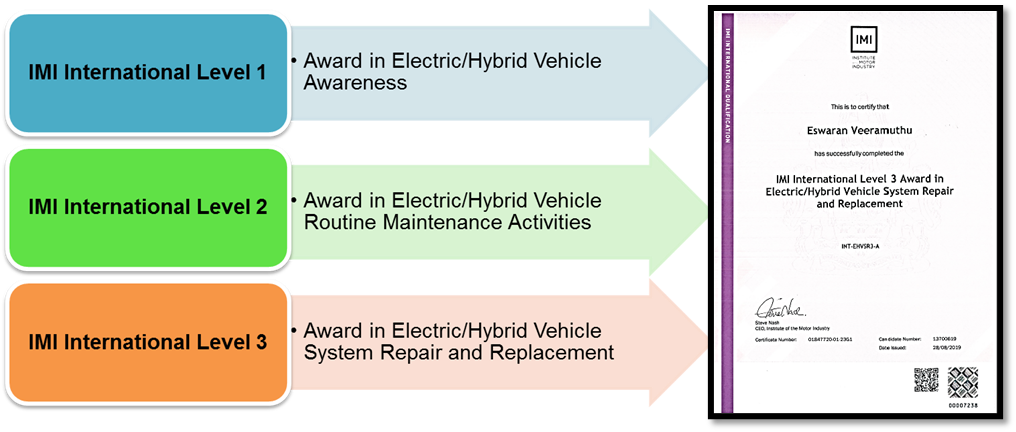 Our Certifications
Quality Management System
Environmental Management System
Occupational Health & Safety Management system
Business Continuity Management System
Asset Management System (only automotive company in Singapore)
Workplace Safety and Health
ME 11 – Mechanical Engineering
EPU/SER/11 – Service (Transportation, Towing)
EPU/ECS/10 – Electrical Components
EPU/CMP/10 – Computer Related Hardware, Software, and Services
EPU/HWT/10 – Hardware & Tools
EPU/FFG/10 – Firefighting, Safety & Rescue Equipment
EPU/SER/35 – Service(Training Personnel)
– Institute of Technical Education (ITE) Approved Training Centre and Certified OJT Centres
– Workforce Singapore (WSg) Approved Training Organization
– Institute of Motor Industry (IMI) Approved Centre